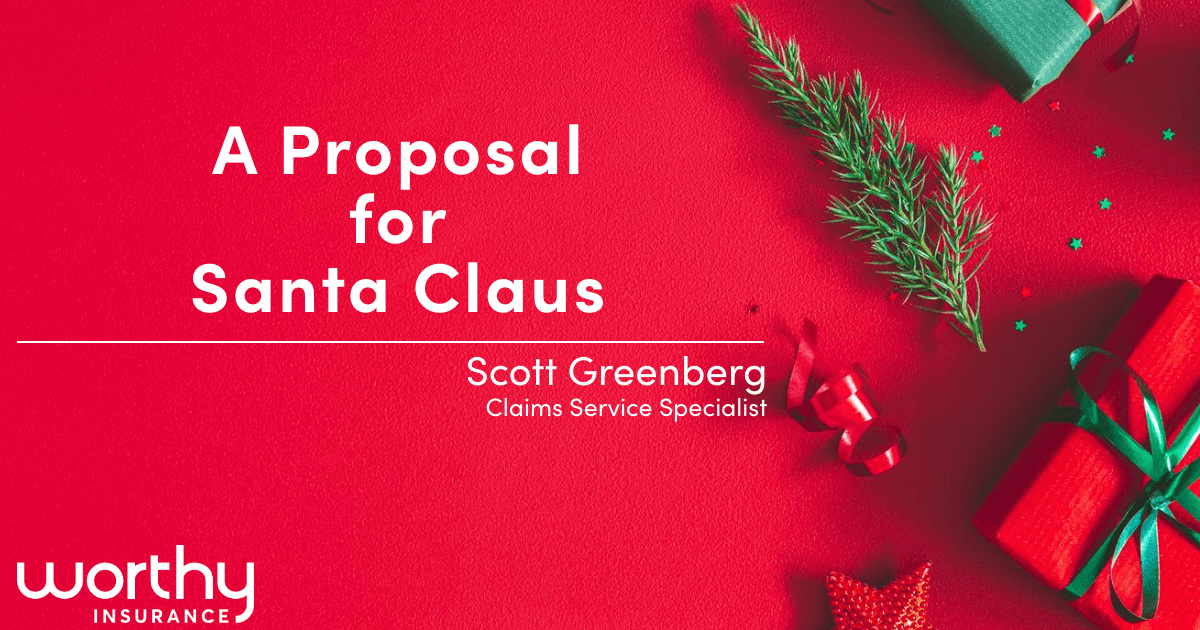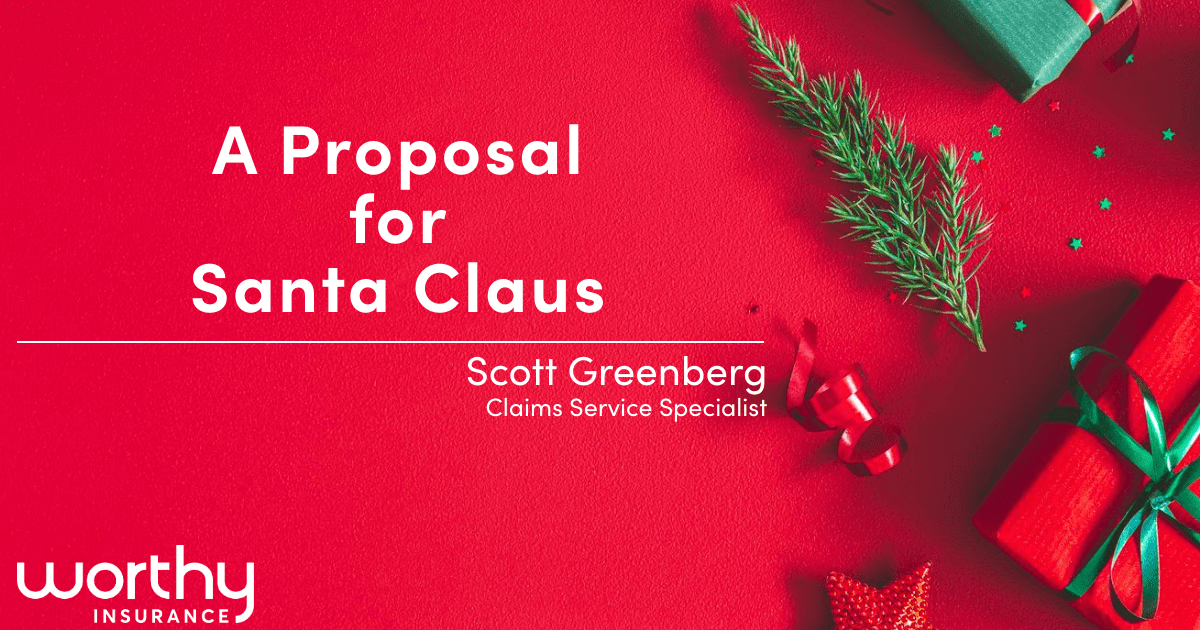 Well, Mr. Claus, I know you have some, well unique insurance needs, and we hope this meets all your concerns. We hope this proposal fits your needs as well as your red suit does. 
Let's start with the basics of course, as a non-profit providing toys to the children of the world, we should start by setting you up with a business owners policy. This is going to make sure you have property coverage across your North Pole location including your workshop and barn. Also included in this is a general liability policy. So, say a visitor burns themself on a spilled glass of peppermint hot coco, you are covered.
Next your elves are such hard workers, let's set them up for safety. We have included a worker's comp policy, so they're covered. If an elf smacks themselves with a jack-in-the-box his bills are covered. Included in there are also safety programs through your carrier to help prevent injuries in the workshop.  
Now we assumed that everyone up in your workshop is a good boy or girl, but we have also included an employment liability policy for cases of potential harassment and discrimination. Putting in nonprofit directors and officers here too to protect your personal assets, can't be too careful Santa. Can't be delivering gifts if all your assets aren't covered. 
Speaking of protecting yourself, cyber is very needed in your case. You have a lot of personal information going into the naughty and nice lists, both digital and paper copies. If someone were to hack your system and hold the list ransom, it could cost you millions. Or if someone breached the data and changed the list, you would have a lot of unhappy parents if their kids were to get coal. 
This next portion is where your insurance becomes tailored to your specific operations. We were able to finagle a few things and got the slay covered under an aircraft policy. It's on a schedule for the month of December with test runs as needed covered as well.  
As for the reindeer, I know you're not much of a farmer up here, but they are covered under livestock for if they get sick or hurt. Can't have anything happening to them, I don't think the elves can fly. 
Last, but not least, all great sports teams must insure their star players. We have a standalone policy just for Rudolph's nose. If anything were to happen to him, we know how much of a loss that would be. 
Please let me know if you have any questions upon review. It's been a pleasure working with you, Mr. Claus, hope I end up on your nice list.  
Interested in learning more about Worthy Insurance? Please email us at  hello@worthyinsurance.com or call 773-945-9000. 
Worthy Insurance is a niche broker with a focus on providing insurance placement and risk management services to the Healthcare, Manufacturing, Social Service, and Main Street business communities. Here at Worthy Insurance, we love to provide you with exciting and fun articles to learn more about insurance and how it impacts your life. Visit our other blogs to find more information.
While Worthy does offer a wide variety of insurance coverages, our main coverages include property coverage, worker's compensation insurance, general liability, professional liability, and cybersecurity coverage. To find out the best coverages for your company, use the contact form below so you can be at ease knowing your company is covered. For personal insurance, please visit Vero Insurance.